Document Type : Article
Authors
1 Faculty of Chemistry and Chemical Engineering, Malek Ashtar University of Technology, Tehran, Iran.
2 Department of Immunology, Student Research Committee, School of Medicine, Hamadan University of Medical Sciences, Hamadan, Iran.
Abstract
Glargine insulin, as a recombinant human insulin analog, is the first long-acting insulin analog. In glargine insulin structure, the asparagine amino acid is replaced with glycine amino acid at the end of the carboxyl chain A, and also two arginine amino acids are added to the end of the carboxyl chain B. The aim of this study is to design, clone and express the human modified proinsulin analog in Escherichia coli and purify it to produce glargine insulin. Initially, the nucleotide sequence of human proinsulin analog was designed based on the E. coli codon usage and Gene Bank data, and then syntactically constructed and cloned into the pBHA vector. Then, the modified proinsulin fragment was sub-cloned into the expression vector pET-21b(+) and the recombinant vector pET21b-proInsG was transformed into the E. coli BL21(DE3). Then, induction of expression in cells containing recombinant vector was done by IPTG. After the evaluation of expression, purification of recombinant protein was performed by using a nickel affinity chromatography and a batch system. Synthesis and cloning of modified proinsulin fragment and construction of recombinant vector were confirmed by DNA sequencing, specific PCR amplification and restriction enzyme mapping. The expression of recombinant protein was approximately 40% in mass form that was confirmed by using SDS-PAGE and western blot techniques. The purification of the recombinant modified proinsulin was successfully done with a purity of about 80%. This modified recombinant proinsulin protein can be used for efficient production of the insulin glargine analogue.
Graphical Abstract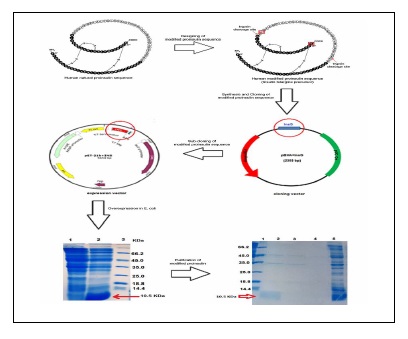 Keywords